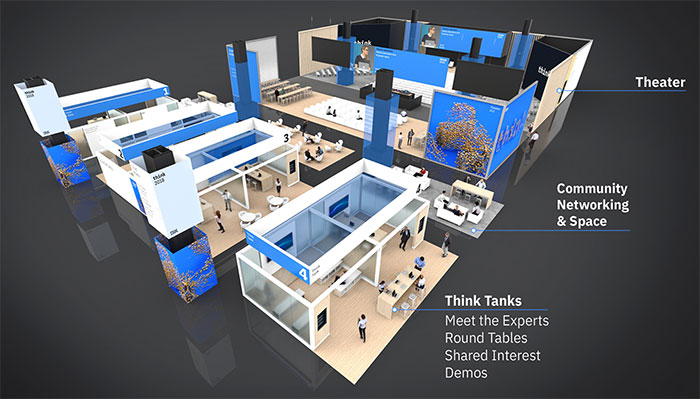 Our team will sponsor IBM Think 2018! We'll be waiting to meet you in the Cloud and Data Campus at Booth 734
Please join our team at Think 2018, we'll be ready to share with you all the details on Hybrid Cloud Express and how can it enable your business to transform and generate value faster than ever!
We'll have Project Managers and Technical Members ready to share with you our experiences migrating VMware workloads into the IBM Cloud using NSX and Hybrid Cloud Express.
Among the topics we'll be presenting are:
How you can migrate virtual machines into the IBM Cloud with NO IP Changes.
How to implement your new datacenter in the IBM Cloud in a matter of days, not months.
How can you add a new DataCenter to your current vCenter on-premise and grow without restrictions.
How you can obtain unlimited bandwith worldwide for workload transport between all IBM datacenters.
How to obtain the fastest connection to IBM Watson and all its published services.
Why is a Secured with NSX Distributed Firewall the best next thing for your VMware workloads security.
Why the IBM Cloud is THE Cloud to be Compliant with GPDR, HyTrust, PCI and HIPAA.
How Data Geofencing at the country level in the IBM Cloud can make GPDR compliance faster and easier for your organization.
Demonstrate how IBM Cloud Object Storage is 20% Less costly than Amazon AWS S3.
Show you how your CPU is HyTrust and Intel TXT compliant at the CPU Level
If you want exclusive one on one time with us, please feel free to book our calendars using the button below.
Please join us, we'll have a good time and learn from each other's experiences!
If you want to talk to us about Hybrid Cloud Express in Las Vegas during IBM Think 2018,
please schedule some time with our team by selecting the option below. We'll do our best to meet with you.
Here's our calendar of IBM Think 2018 presentations: