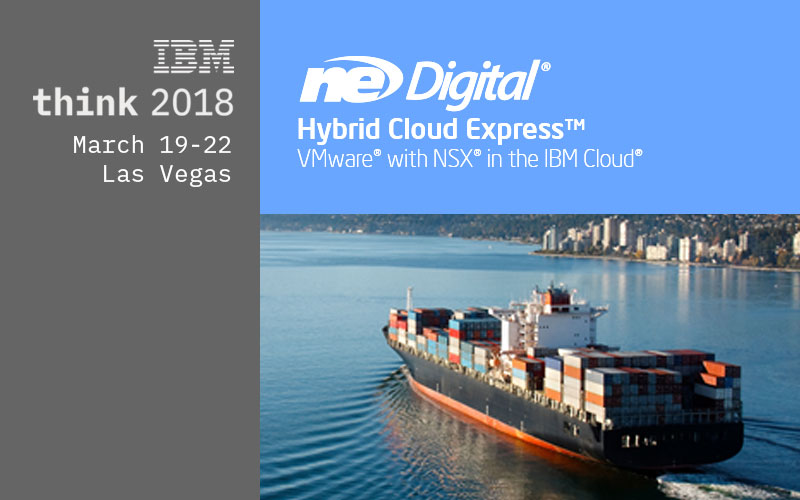 Our team will be speaking at IBM Think 2018 this coming March 20, 2018, at 12:30 pm at the Mandalay Bay South, Level 2 - Lagoon C

Download this event to your calendar:

Here's the abstract for our talk:
VMware is the leader in virtualization and SDDCs. IBM Cloud is the leader in bare metal servers with the most geographically diverse network of data centers. These two factors make IBM Cloud and VMware the leading provider for the creation or expansion of virtual datacenters. Join us as we demonstrate how Turbaduana, an SMB running on-premise VMware that leads in the shipping agency business, was faced with the difficult decision to renew their lease, purchase new hardware or migrate to the cloud. Turbaduana decided to leverage ne Digital's Hybrid Cloud Express (HCE) solution to move their workloads to the IBM Cloud. Today they have achieved agility and scalability, and reduced IT expenditure while increasing their ability to innovate.
Please join us, we'll have a good time and learn from each other's experiences!
If you want to talk to us about Hybrid Cloud Express in Las Vegas during IBM Think 2018,
please schedule some time with our team by selecting the option below. We'll do our best to meet with you.
Here's our calendar of IBM Think 2018 presentations:
| | |
| --- | --- |
| Session ID: | 7222 |
| Title: | Why SMBs are Making the Switch to Run VMware with IBM Cloud |
| Where: | Mandalay Bay South, Level 2 - Lagoon C |
| When: | Tue, 20-Mar 12:30 PM - 01:10 PM |