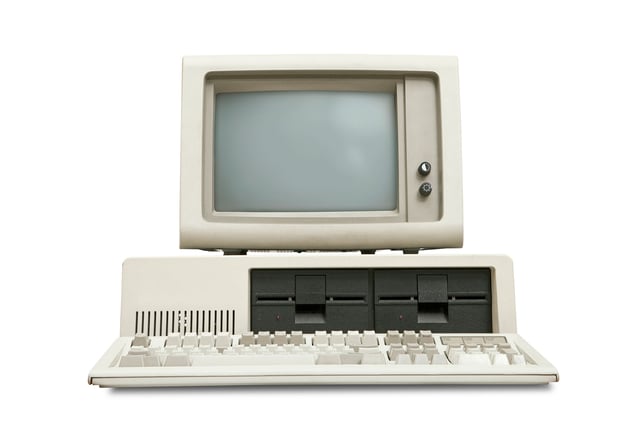 Reading Time: 3 minutes
This is our second post in the series of "5 Common problems to solve with a Hybrid Cloud implementation: Why Hybrid Cloud makes business sense"
While this vintage IBM® PC might bring nostalgic memories to some of our readers about their first mouse-enabled PC, aging hardware is not a happy thought for an IT operations professional looking to establish a Hybrid Cloud. Every organization has some computing and networking hardware on-premise. Those IT resources are inevitably destined to become obsolete, generally after three to seven years of utilization depending on your industry, workloads and end-user requirements. Based on past experiences with our customers there are three clear opportunities where IT executives have to meet with CFO's or CEO's and talk about hardware and software expenditures.
Leasing renewal: The company has a current leasing contract for its computing hardware, and within the next months they have to decide it they return the equipment and continue leasing some new machines, or if they exercise a purchase option and become owners of the hardware.
Capacity reached: The enterprise owns their hardware, but at this point, it seems that capacity is reaching its limits and they need to analyze how to supply more resources.
Warranty expiration and obsolescence: The company owns their hardware and vendor/manufacturer warranties start to expire without a possibility of extension, leaving the IT department at the mercy of happenstance.
These opportunities are everyday situations that arise at organizations or IT departments. Analyzing the viability of a Hybrid Cloud implementation makes a lot of sense because:
Operational costs might go down depending on the workloads and especially for smaller businesses; they should do the math and analyze if all their applications could be run economically as virtual machines in a Private Cloud on a Public Cloud service provider.
The organization could gain the ability to gradually virtualize and migrate workloads to a private cloud hosted in a public data center. For existing servers, local bare metal machines (machines that not virtualized) can be gradually virtualized and the creation of an internal Private Cloud could make a lot of sense both financially and operationally.
You can forget about physical hardware because it becomes the CSP's problem when you decide to go 100% with virtual instances.
If you choose to have your own hypervisor bare metal hardware, you can rest assured that at least once a year you will be able to migrate you VMs to the latest and greatest hardware available in the Datacenter of your choice.
Depending on your provider all Operating System software licensing related costs are embedded in the monthly charges.
Other posts in this series are:
If you like what you are reading, download our guide:
Make sure to Subscribe to Our Blog to receive our team updates about Digital Transformation and Hybrid Cloud.