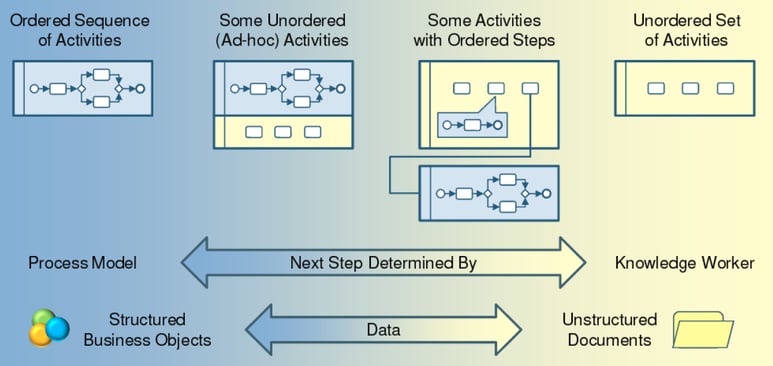 We've been working with a customer on an IBM BPM in Customs application to handle all the requirements and deadlines that a particular import/export process needs to take into account to avoid expensive government fines. This post talks about our analysis of ad-hoc vs. sequential or process-like activities.

While designing a process for the customs and logistic industry we've not only observed paths full of details for expirations and requirements but also activities that have no specific predecessors or follow-ups. As a result keeping an organization waiting on a basic activity of some government worker can be a massive loss of precious time that would allow the execution of other important and required tasks simultaneously and on demand to the current knowledge worker.

IBM BPM Business Process Manager v8.5.6 and newer versions allow organizations the creation of "Hybrid Case and Business Process" solution that can mix the best of case and process in a single application.

Some of the key differences between business process management and case management are:
| Business process management | Case management |
| --- | --- |
| You can define an ordered sequence of activities that can be completed to solve a business challenge. | You can define an unordered set of activities that can be completed to solve a business challenge. |
| The sequence of activities is stable and seldom changes; that is, the process is predicable and repeatable. | The activities occur in an unpredictable order. |
| The process determines the events. The first activity determines the first set of events, which then leads to the next activity and the next set of events. The activities are wired to one another, which determines the sequence. | The events determine the process. As events occur, a worker selects the appropriate activity. The resulting process can vary depending on the current event and the subsequent selection by the worker. Activities are not wired to one another. |
| The activities are often programmatic. A repeatable sequence, such as selecting a set of potential credit card owners from a database, can be automated. | People primarily determine the activities. Handling a customer with a billing error is done by a person who uses judgment to determine the best resolution of this particular case. |
| External documents are not part of the process. | External documents play a key role. For example, receipts provide a record for how the problem |

If you want to learn more about our IBM BPM for Customs and logistics application and IBM BPM infrastructure, our team will be happy to discuss your specific requirements.